Touka no Kyouen show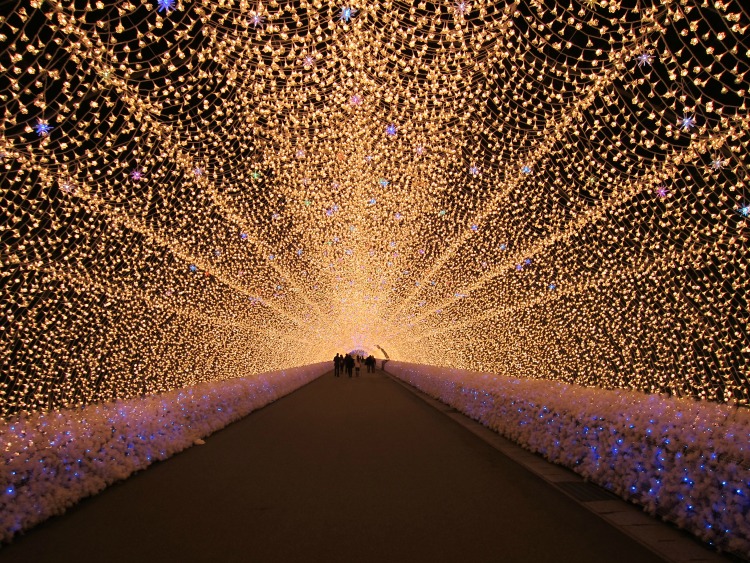 One of the world's most fascinating and wonderful festivals—a part from the ice sculptures one happening in China—takes place in Japan during the winter period. This amazing show it runs from mid-November to the end of March.
Anyway, Touka no Kyouen show (which means flowers in winter) is a show that is held in the theme park Nabana no Sato in Mie Prefecture, just outside of Nagoya.
As you read in our previous article on cherry blossom in Japan, Japanese believe that flowers are the most beautiful and perfect beings on the planet, so most of the Nippon traditional festivals are actually related to nature and, of course, flowers.
Touka no Kyouen is a light show where artists represent flowers and natural sceneries. Million of flower-shaped bulbs create stunning natural scenes, such as Mount Fuji at dawn and a rainbow across the sky.
The entire park lights up like a comet! There are tunnels made of light, trees and bushes covered in colorful bulbs…the whole place turns into a magical land.
You surely remember Disney's cartoon of Peter Pan. Well think about Tinker Bell and try to imagine hundreds of thousands of fairies flying around or just chilling on a tree branch. This is what it feels like to be at Nabana no Sato for the Touka no Kyouen show.
While deciding when to fly to Japan to go see this incredible park, you can enjoy the following shots and the video capturing the surreal scenery of Touka no Kyouen.
T H E   V I D E O
(All the photos are taken from Google.com, all the videos are taken from YouTube.com, and all belong to their original owners-We do not own any of the content posted-Removal upon request)