World's best places to skydive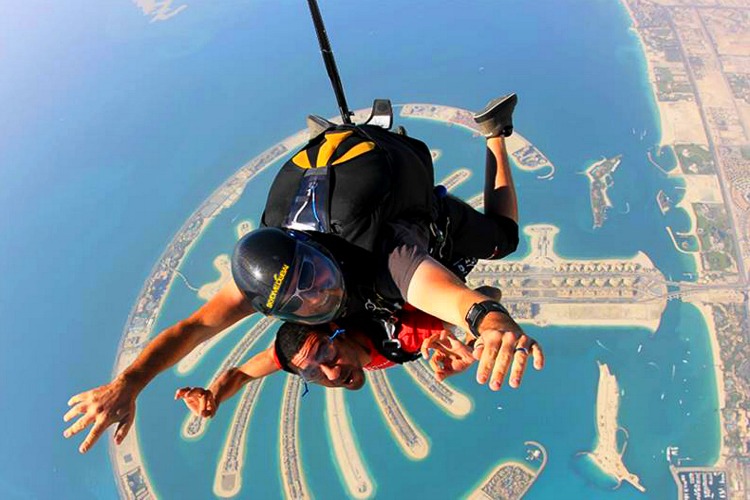 If you have never tried skydiving, you should definitely put it down in your bucket list!
The adrenaline pumping in your veins while you're jumping off an airplane is priceless. The view from up there is also priceless. Not to mention the feeling while floating midair in the sky…
Of course you need to be brave enough—and not to have vertigos—to find the courage to jump from a flying plane. Not everyone can do that!
The good thing about skydiving is that you jump with an instructor, so once you're sitting on a plane there is no way you can back off and go back down without jumping.
The instructor, who's attached to you—he would be behind you—will push you out. The only thing you would have to do is enjoy the fall and the view. The guy (or girl) behind you will take care of everything else.
You will find that the best part about skydiving is during the free-fall. One the instructor opens the parachute the adrenaline simply fades away…
A jump usually lasts for 5/10 minutes. The free fall takes a couple of minutes, and the parachute-fall about 4 or 5.
Skydiving is something that everyone should try at least once in a lifetime. It is not just incredibly exciting, but the panorama from up there is also incredibly stunning.
Let's now take a look at the world's best places to skydive!
Wollongong, Sydney, Australia
T H E   V I D E O
Seville, Spain
 Kamchatka Peninsula, Russia
 Zambia
 Hawaii
T H E   V I D E O
Le Marche, Italy
 Namibia
 Mauritius
 Fox Glacier, New Zealand
T H E   V I D E O
Everest, Nepal
(All the photos are taken from Google.com, all the videos are taken from YouTube.com, and all belong to their original owners-We do not own any of the content posted-Removal upon request)