Guatapé, the rainbow town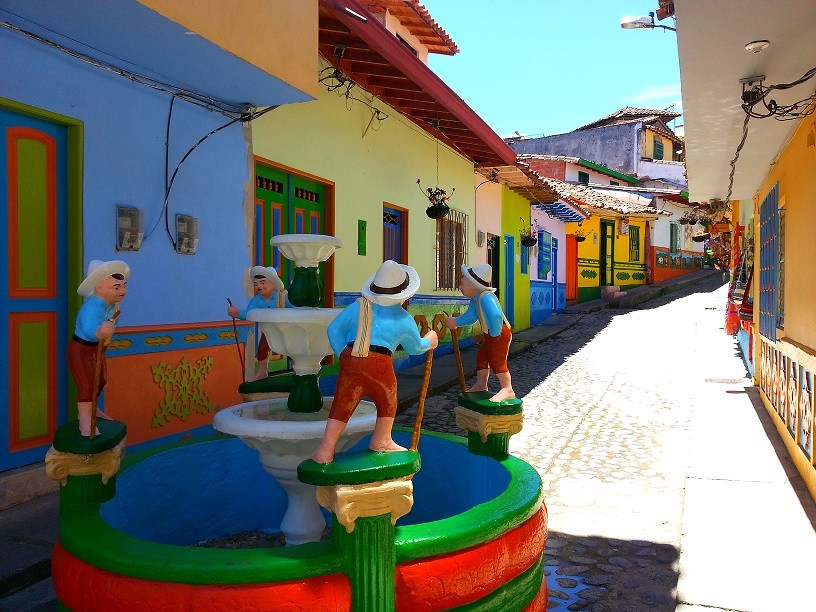 Colombia is one of the South American countries that overlooks the Caribbean Sea, giving the international tourism some cozy coastal resorts…
The Country is composed by 32 departments, among which there is Antioquia Department. It's washed by the Caribbean Sea, but its territory is mostly mountainous and crossed by Rio Magdalena that comes from the Andes and then dives into the Caribbean Sea.
Medellin is the capital of this department; it's the second largest city by population in Colombia, after the capital Bogota, which is located between the Andean Western and Eastern cordillera in the D'Aburrà Valley.
Guatapé is a colonial town, founded in 1811 by Francisco Giraldo Jiménez ,located 80 kilometers from Medellin. It offers to visitors its colorful buildings and other pleasant surprises.
Guatapé is also known as "rainbow town" for the myriad colors of the houses, all painted in bright colors… a joyful atmosphere runs along its streets…
The house decorations are named "zocalòs" ; these geometric or floral designs make reference to ancient customs and religious beliefs… so residents proudly tell.
This town has always been a reference tourist destination for Colombians, but not only…. thanks to a very special attraction: the Piedra del Penol.
This impressive and strange rock is about 200 meters high. It can only be visited by people in good physical condition… because you have to climb 720 steps! But at the end of steps you can access at its peak and you can admire the spectacular artificial lake built at its feet!
T H E   V I D E O S
(All the photos are taken from Google.com, all the videos are taken from YouTube.com, and all belong to their original owners-We do not own any of the content posted-Removal upon request)