The flowers of Spello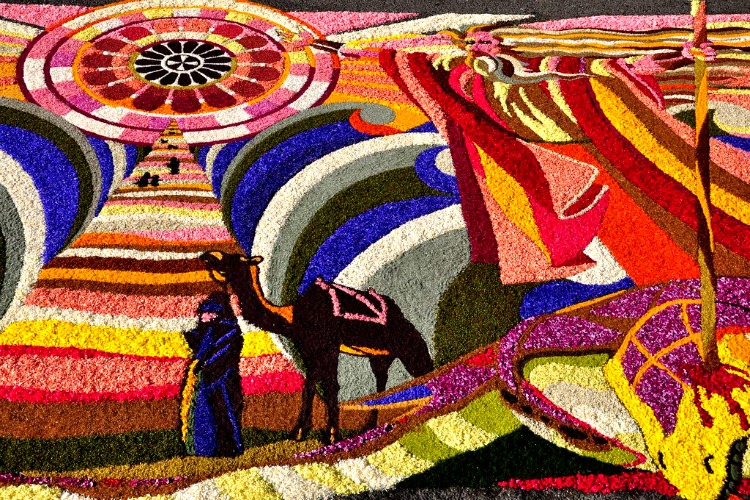 Umbria is one of the most beautiful regions of Italy; it has a wonderful nature and ancient villages where the time seems to be stopped…
Spello is in the province of Perugia, it is representative of this type of villages and just watch it from a distance, while you arrive by car, to be aware of being in front of a small medieval jewel!
The legend tells the name comes from its founder, Ispeo Pelisio, one of the companions of Aeneas who was lost…
In addition to its architectural and scenic beauty, Spello has a peculiarity, that hit The Golden Scope: the annual exhibition of  "Spello's flowering ".
Each year, for the occasion of Corpus Christi procession, several real artists create beautiful flower arrangements representing religious figures and ornaments!
The first achievements of these floral carpets date back to the nineteenth century but the first real artistic work began in 1930, when a local woman made a figure made in broom and fennel.
The inhabitants of the village were immediately enthusiastic about the idea and they began a sort of positive competition to create, with flowers and other plant material, religious depictions, sometimes of considerable size, also reproducing existing paintings.
Since that time, all families of Spello are engaged, with the "professionals", in a real annual competition. This contest provides an award to the best work from the point of view of the technical and of the creativity.
A very particular aspect is that these works require several weeks of preparation, but they are made in the course of a single night!
In fact, the afternoon before the procession, on Saturday, the artists start to work and they work all night, because works must be finished at 07.00 the next day, on Sunday, when the jury examines them and then it rewards the best creations.
This year Spello has had, as every year, a unique setting with over 2000 meters of floral carpets that branched into the streets, filling them with very suggestive colors and scents. A real outdoor show!
T H E   V I D E O
(All the photos are taken from Google.com, all the videos are taken from YouTube.com, and all belong to their original owners-We do not own any of the content posted-Removal upon request)