Holi, the Festival of Colors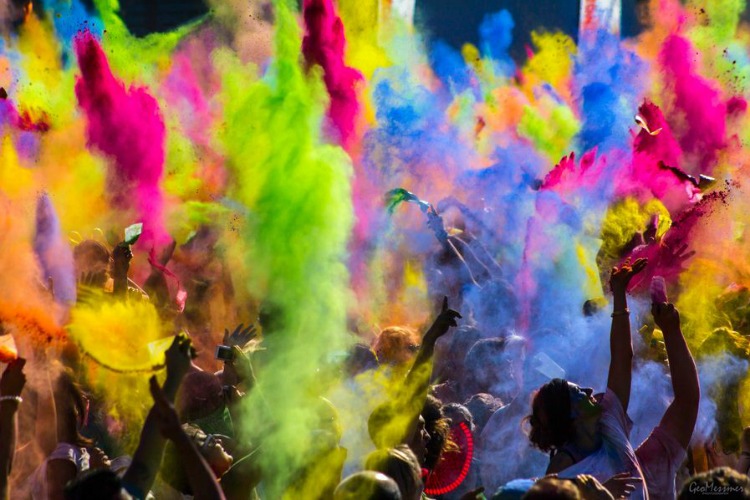 The spring is approaching and around the world many events have taken place, are taking place or will take place, to celebrate and welcome the new season.
In India, every year, one of the most attended festivals of Hindu mythology is celebrated on the day after the first full moon night (Dhulhendi) in the month of Phalgun, which also marks the beginning of spring…
During the full moon night, people lit the bonfire that serve to kick away the bad spirits and celebrate the victory of good over evil. The next day, people gather in the streets beginning the main rite, the Holi:  the launch of the water and colored powders!
In fact, the festivities include singing, dancing and, above all, throwing colored powder in the streets of cities and villages. Everybody with painted faces, turns into a real colored spot, throwing buckets of paint or colored powder on anyone…
It's recommended for visitors to wear no-precious clothes and to protect the eyes with sunglasses during the festival because it's impossible to avoid the "storm" of colored powder that invades the streets …
People of all ages take part at festivities, shops and offices are closed, lovers color the face of their loved to sanction their feeling, the temples are also decorated with colors….
The arrival of spring, each year, means hope and joy to everyone who take part in the celebration of Holi and this show is really unique, fascinating and addictive!
In India Holi-Festival of Colors is a veritable feast of joy, happiness and fun, especially for children who are waiting impatiently this event during which, each of them is "authorized" to sketch and paint the other, children or adults, on the streets!
T H E   V I D E O
(All the photos are taken from Google.com, all the videos are taken from YouTube.com, and all belong to their original owners-We do not own any of the content posted-Removal upon request)