Nong Nooch Tropical Botanical Garden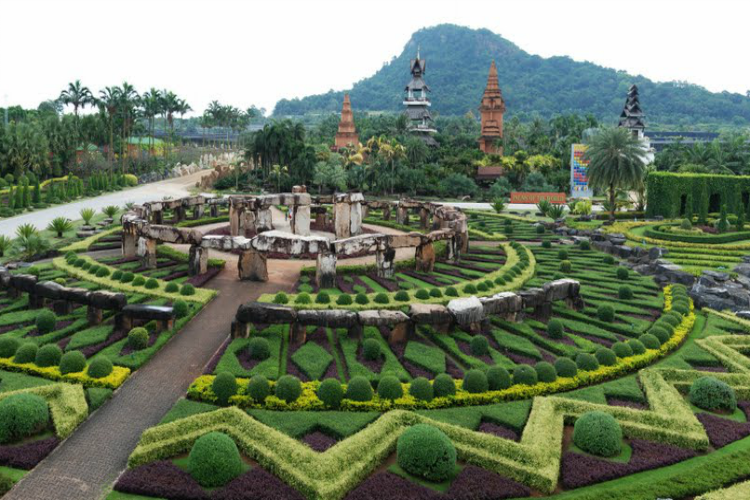 Nong Nooch Tropical Botanical Garden is located in the Chonburi Province, in Thailand. The garden is considered as one of the country's top tourist attractions, and it is reachable by bus, taxi or private transportation.
When there, travellers will be able to view all kinds of tropical flora, which is divided in different sections:
French Garden
European Garden
Stonehenge Garden
Cactus & Succulent Garden
Variegated Plants
Ant Tower
Butterfly Hill
Orchid & Bromeliad Display Garden
Flower valley
In addition to the beautiful wildlife, people can also experience religious ceremonies, martial arts demonstrations, massages, and elephant shows.
A BIT OF HISTORY
Nong Nooch Tropical Botanical Garden was first created in the late 20th century, after Pisit and Nongnooch Tansacha bought the 600-acre plot of land in 1954.
The initial plan was to develop fruit plantations, but then the two owners decided to actually use the land to plant tropical plants as a wildlife conservation project. Finally the garden was officially open to the public in 1980.
TROPICAL PLANTS & FLOWERS
Among the numerous plants and flowers growing in the garden, are:
Cactus: Echinocactus grusonii; Echinopsis; Lobivia
Tropical American and Central Africa species of Cycads
Rhapis Palms
Heliconia
Ginger
Torch Ginger
Apinia
Bougainvillea
Hoya
Bromeliads
Marantaceae
Passiflora
Plumeria
New Caledonian Plants
T H E   V I D E O
(All the photos are taken from Google.com, all the videos are taken from YouTube.com, and all belong to their original owners-We do not own any of the content posted-Removal upon request)