World's best shark dive spots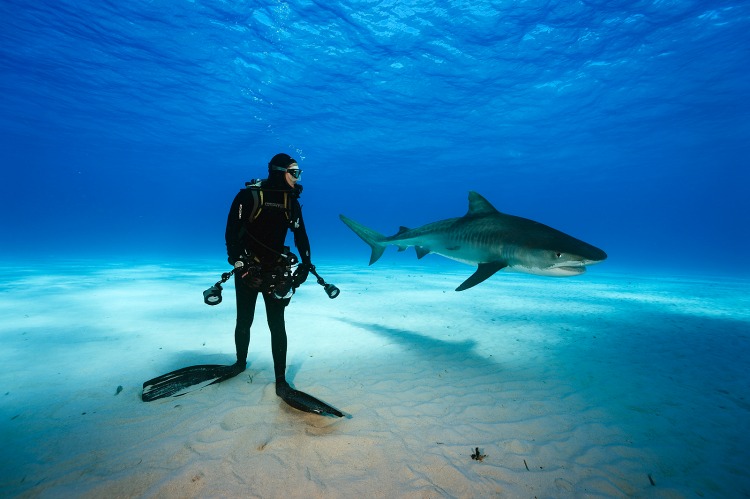 Shark diving is not just about watching sharks silently swimming around your cage. It is acutally about the adrenaline pumping in your veins and the fear eating your thoughts.
Shark diving is something so unique that should be done at least once in a lifetime. I am being slightly hypocritical right now, as I don't think I would ever have the courage to dive in waters infested with sharks!
Anyway, I did hear that the moment you jump in the cage and you go underwater the only thing you are focused on is the shark(s), so you don't really have time to think and/or overthink about your fears. It's just you and the huge carnivore going in circles around you.
Shark diving could be done in different ways. Of course it all depends on the kind of shark you are swimming with. If you are surrounded by great whites, most of the time (99.9% of the time) you are in a cage. If you want to see whale sharks, then you don't need to be locked up in a cage, but you can swim with them and touch them.
Either way, diving with sharks is something incredibly unique!
If you are one of those who has shark diving in your bucket list, then get pen a paper and add in this bit of info for your trip. We put together a list of the best shark dive spots in the world, so try figure out which is the type of shark you wish to be "one-on-one" with and then get the diving location.
Bull sharks – Bimini Island, Bahamas
Broadnose Sevengill Sharks – False Bay, South Africa
Gray reef Sharks – Great Barrier Reef, Australia
Basking sharks – Oban, Scotland
Great White Sharks – Isla Guadalupe, Mexico
Blue and Mako sharks – Rhode Island, USA
Scalloped Hammerheads – Galapagos Islands
Thresher sharks – Monad Shoal, Philippines
Whale Sharks – Isla Mujeres, Mexico
Caribbean reef Sharks – Grand Bahama Island, Bahamas
T H E   V I D E O
(All the photos are taken from Google.com, all the videos are taken from YouTube.com, and all belong to their original owners-We do not own any of the content posted-Removal upon request)