Tubbataha Reef Natural Park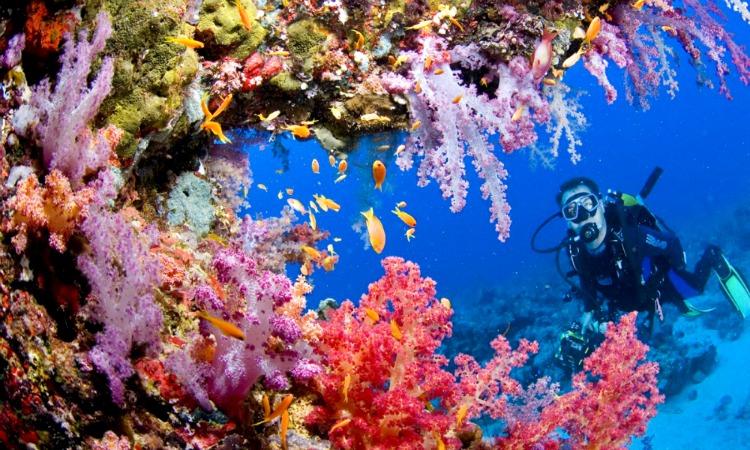 Tubbataha Reef Natural Park is a beautiful protected area located in the middle of the Sulu Sea in the Philippines. The park has been a UNESCO World Heritage Site since 1993.
Tubbataha consists of two atolls—North Atoll and South Atoll—and the Jessie Beazley Reef (located about 20 kilometres north of the two atolls).
The total area spans 97,030 hectares. The numerous scientists visiting and studying the reefs concluded that the Tubbataha Reef Natural Park is home to 600 fish species, 360 coral species, 11 shark species, 13 dolphin and whale species, and 100 bird species. Hawksbill and Green sea turtles also habit the reef.
The park is located 150 kilometres south of Puerto Princesa City, the capital of Palawan province, so it is reachable by boat from there.
Both the North and the South Atoll have a lagoon in the middle and small sandy islets around. The first island is slightly bigger than the second one.
Tubbataha is considered as one of the best dive sites in the world. Indeed, when down there you would be able to see all kinds of fish, corals and marine creatures!
The best period to submerge in Tubbataha Reef Natural Park is from mid-March to mid-June, as the waves are calmest, skies clear and water visibility reaches 30 to 45 metres.
During this period of time boats from Puerto Princesa to the park operate quite regularly. The trip takes around 10 hours, so divers and travellers will have to stay on the boat during their stay in the park.
It might sound like a crazy adventure, but it is totally worth the poor night sleeps and the lack of wifi and mobile connection!
T H E   V I D E O
(All the photos are taken from Google.com, all the videos are taken from YouTube.com, and all belong to their original owners-We do not own any of the content posted-Removal upon request)