Stingray City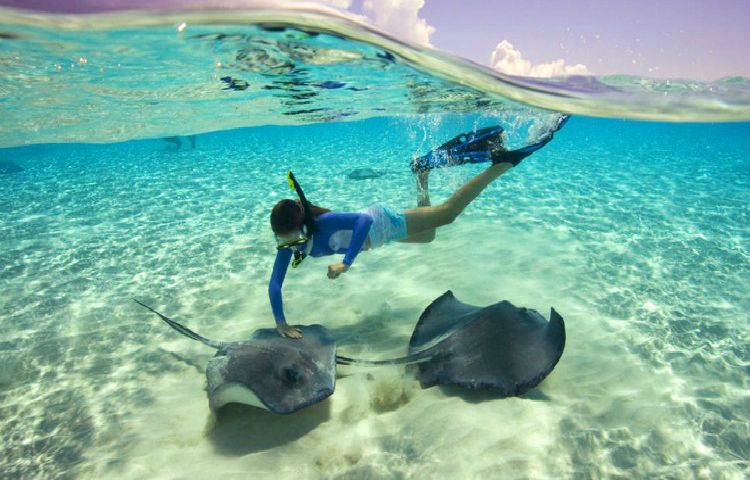 Hidden between the beautiful Cayman Islands there is a strip of sand that attracts the attention of tourists from around the world. On the sea floor and the surface, special inhabitants live there, running around: the stingrays.
This famous place, internationally known as Stingray City, is located in the shallow waters of the north-west of Grand Cayman North Sound and it is an ideal destination for those who want to interact with marine life.
In fact the stingrays have one very special feature: they are extremely welcoming and quiet. They play without any fear, with humans because they have realize that the boats and people play with them and bring food.
Located in the Caribbean Sea, this archipelago consists of three islands, Grand Cayman-Little, Cayman-Cayman Brac. It was first sighted by Christopher Columbus in 1503 and it was initially called Las Tortugas for the many sea turtles that were swimming around.
Today, the stingrays have become more numerous and, above all, more famous of the turtles, however, still live in the area but they are less likely to interact with humans.
If you want to visit Stingray City, you can stay at Grand Cayman and ask the hotel to arrange a boat tour… to see, familiarize and play with the stingrays!
The locals tell that this fact started, not long ago, when the stingrays started to approach the boats of fishermen who, after returning from their fishing expeditions, they stopped in shallow water to clean and select the catch. The stingrays appreciated these tasty morsels!
Today the stingrays, not being able to distinguish the fishing boats from those of tourists,  approach to all, waiting to get food. During this time they play happy and they do entertain tourists!
T H E   V I D E O S
(All the photos are taken from Google.com, all the videos are taken from YouTube.com, and all belong to their original owners-We do not own any of the content posted-Removal upon request)