Brazil's most beautiful beaches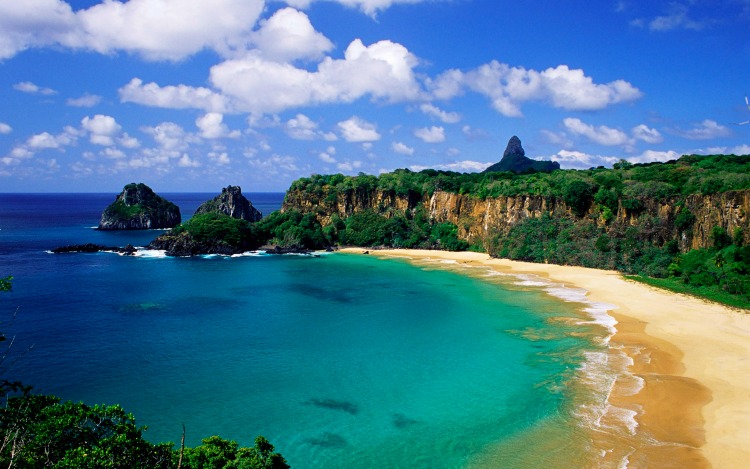 When thinking about Brazil the first thing popping into you mind would probably be Rio de Janeiro—and of course the Football World Cup.
However, this beautiful South American country is so much more than the Cristo Redentor, Copacabana and the Maracanã Stadium.
There are so many unknown stunning beaches all around Brazil that The Golden Scope decided to pick a few and show them to you.
Since this country presents numerous destinations that one should go visit, today we only concentrate on the seaside.
However, we promise that later on we will take you throughout the most beautiful Brazilian jungle villages, the most remote islands and the most fascinating local towns.
Moving back to the topic of the day, following are five beaches that will make you feel like you're in paradise. Enjoy!
BRAZIL'S MOST BEAUTIFUL BEACHES 
Praia do Forno, Búzios
Located two hours away from Rio, this beach offers shallow, crystal-clear waters and immaculate white sands.
T H E   V I D E O
Jericoacoara, Ceará
Jericoacoara is an isolated village surrounded by dunes and lagoons. This place is absolutely magical as the sand dunes fall straight into the sea. A truly one-of-a-kind landscape.
T H E   V I D E O
Praia Taipús de Fora, Bahia
This quiet and long beach features crystal clear waters that make the area perfect for snorkelling. The sea is quite shallow so you could tan by lie down on the sand/water.
T H E   V I D E O
Love Beach, Pipa
Love Beach is located north-east of Brazil and it is the perfect spot for surfers. It is a very quite and reserved piece of sand featuring high waves.
T H E   V I D E O
João Fernandes, Buzios
João Fernandes is a very pretty small bay. The water is calm and the beach is usually a popular destination among locals who want to go snorkeling.
T H E   V I D E O
(All the photos are taken from Google.com, all the videos are taken from YouTube.com, and all belong to their original owners-We do not own any of the content posted-Removal upon request)