MUSA, the underwater museum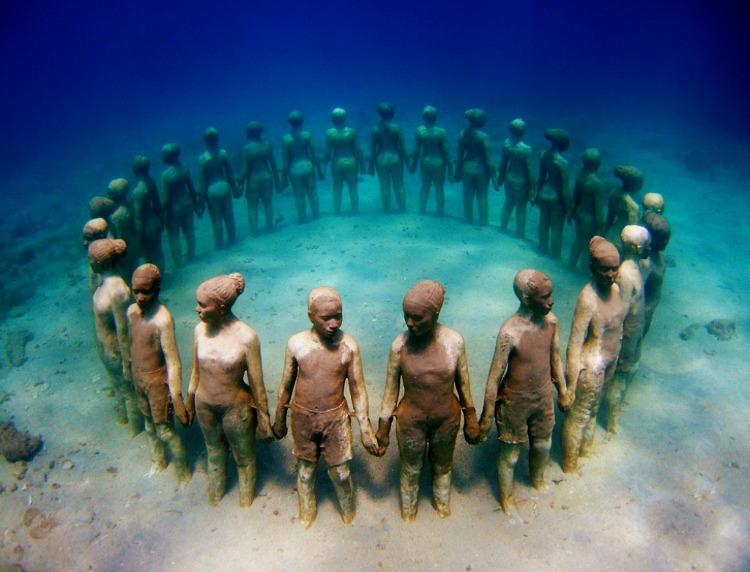 If you like unconventional things, then you will surely appreciate the MUSA, Museo Subacuatico de Arte, located in Cancun, Mexico.
The MUSA is a museum positioned at the bottom of the ocean. If you think that normal museums are boring, then you should go visit this one, and I can ensure you that you will have a blast!
Founded in 2009 by Jaime González Cano—Director of the National Marine Park—Roberto Díaz Abraham—President of the Cancun Nautical Association—and English sculptor Jason deCaires Taylor, the MUSA is situated in between the Isla Mujeres and Punta Nizuc.
The project consists of over 500 permanent life-size sculptures and it is considered as one of the largest and most ambitious underwater artificial art attractions in the world. The MUSA is composed by two galleries, one being the Salon Manchones and the second one the Salon Nizuc.
The Salon Manchones is eight meters deep and it is reachable by both divers and snorkelers; whereas the second gallery is only four meters deep and it is only accessible by snorkelers.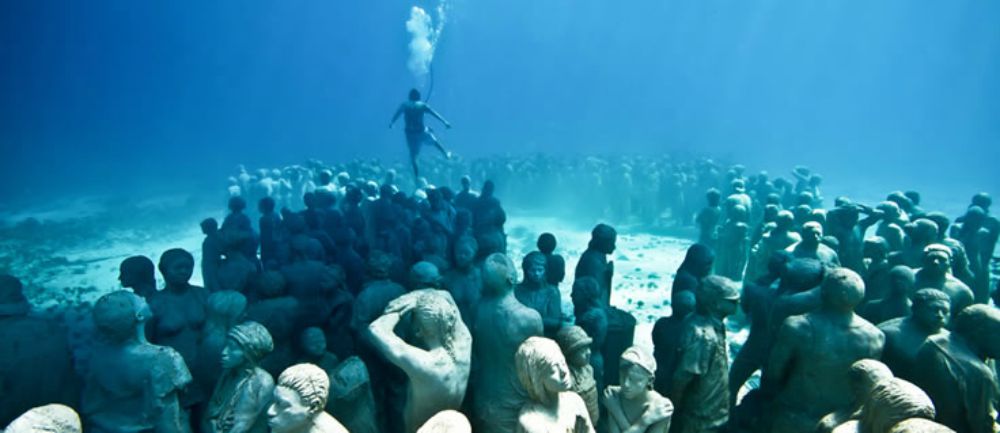 The artists to exhibit at the MUSA are: Jason deCaires Taylor, Karen Salinas Martinez, Roberto Díaz Abraham, Rodrigo Quiñones Reyes and Salvador Quiroz Ennis.
These five talented individuals managed to create stunning artworks that blend in with the marine life without ruining the underwater landscape. If you take a look at the photos capturing the MUSA, you will realise that all the sculptures have corals, fish and underwater animals growing and swimming all around them.
HOW TO VISIT THE UNDERWATER MUSEUM
There are several ways you could go visit the MUSA: either you go scuba diving during the day or even during the night; or you can go snorkelling, or last, but not least, option is by glass bottom boats.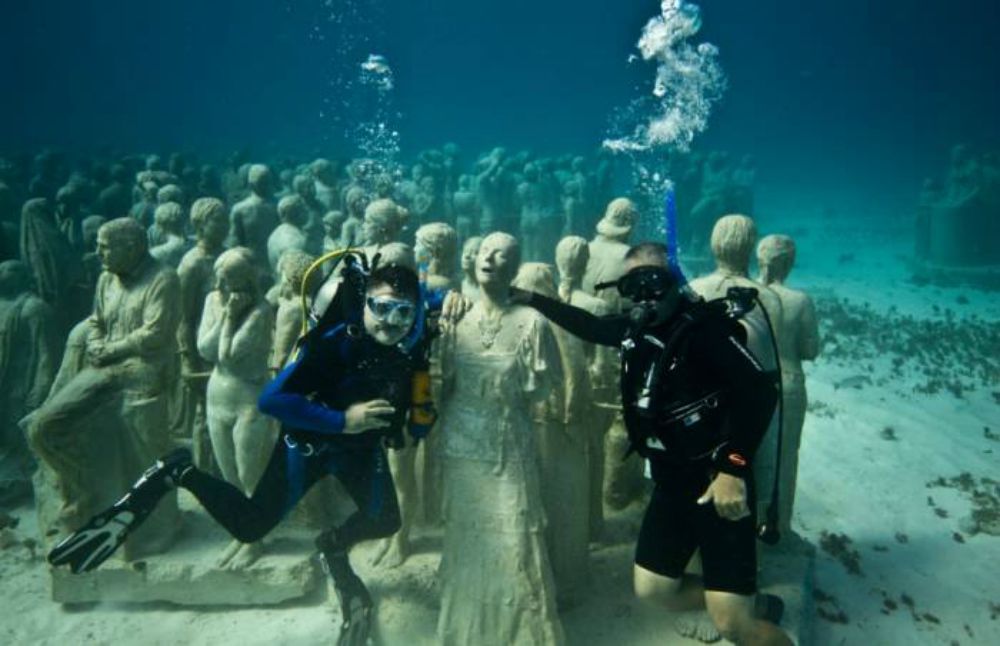 If you go scuba diving it's easier to see the sculptures as you can stay underwater for a long time without having to swim up to breathe—like you would have to do if you were snorkelling—and in addition to this, you will also be able to see the artworks more closely than if you were on a boat.
However, if scuba diving is not really your thing, then the glass bottom boats are a fun and interesting way to visit the MUSA!
HOW TO GET THERE
As I mentioned above, the MUSA is located in Cancun, and it is reachable(by boat) from Cancun Centro, Punta Cancun, Zona Hotelera and/or Punta Nizuc.
The wonderful thing about this underwater museum is that while admiring human artworks, you can also enjoy Mother Nature's work and see the beautiful marine life growing all around you.
Visiting the MUSA is not just about viewing some art pieces, but it is about witnessing how artificial objects, such as those sculptures, can actually blend in a natural habitat, becoming part of it.
T H E   V I D E O
(All the photos are taken from Google.com, all the videos are taken from YouTube.com, and all belong to their original owners-We do not own any of the content posted-Removal upon request)