The Craigdarroch Castle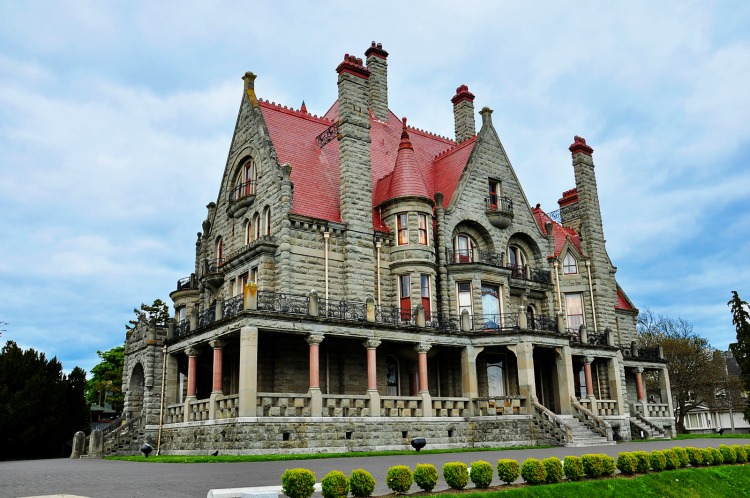 Canada, a country of snowy landscapes, mountains surrounded by valleys "populated" by a large number of dark green trees into the deep snow, and isolated wooden houses with the smoking chimney, and then a small pontoon where a seaplane is moored…this seaplane uses a small lake as runway/takeoff, the latter is green as the trees that surround it.
Today The Golden Scope chose to tell you about an unusual, victorian-style castle; it was built by a coal baron at the end of 1800.
Craigdarroch Castle was built in 1890 by Robert Dunsmir , it tells the fascinating story and the "whims" of this rich family of this time.
Both the interior and exterior have been faithfully restored and today this structure, in addition to guided tours, often hosts conferences and events; the sumptuous furnishings were made by the Dunsmir family between 1890 and 1900.
The castle is administered by The Craigdarroch Castle Historical Society Museum, one of the few entities of this type, it is nonprofit and receives funding from the federal and provincial government but also it is supported by private donations.
Canadians are proud about this reality. A lot of people visit the castle every year. Visitors are attracted and intrigued by this perfectly preserved "portion" of the past  that "wraps" them from the entrance.
As evidence of the importance of it, Victoria's city has granted a tax exemption for "property permissive" and this allows the Castle Society to use the funds available for the periodic maintenance and so to preserve the castle Craigdarroch in all its glory!
T H E   V I D E O
(All the photos are taken from Google.com, all the videos are taken from YouTube.com, and all belong to their original owners-We do not own any of the content posted-Removal upon request)