The Nature Reserve Landmannalaugar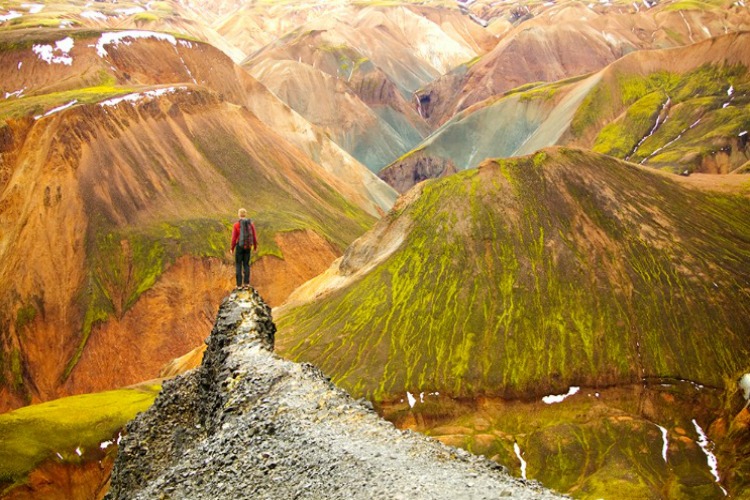 Iceland, the literal translation from English is "land of ice", but is also known as the "Island of Fire and Ice" because there are volcanoes and glaciers, geysers, thermal springs and vast green grasslands.
Today The Golden Scope takes you to this fascinating island and its incredible natural contrasts… volcanic lava fields and glaciers, desert areas and green meadows lost in the horizon… beautiful landscapes that vary continuously both as colors then geological composition.
The Nature Reserve Landmannalaugar, created in 1979, is located in the south of Iceland and "gives" the privileged visitor unbelievably spectacular routes with the company of "noisy" silence of the wilderness!
This area, with its 47.000 hectares, not only offers the opportunity to go trekking but also to ride on paths in the valley. In the area there is also the volcano Hekla, one of the busiest of the island, it's possible to visit it only from June to September, when a well-equipped service center is on.
The name Hekla means "hooded" because the summit is almost always surrounded and hidden by clouds, in the Middle Ages, probably for this reason it was considered the port of 'hell" !
A trip to this last "corner" of Europe is an unique experience to pristine the spirit tone because this nature reserve is a primitive place on the edge of the world….
After the spirit invigorated, probably you'll also need to tone up the body…a bit tired from hiking…you must to thank mother nature because this natural paradise is rich in countless puddles and ponds of hot and rejuvenating thermal waters in which you immerse yourself… enjoying the sunset Icelandic!
T H E   V I D E O 
(All the photos are taken from Google.com, all the videos are taken from YouTube.com, and all belong to their original owners-We do not own any of the content posted-Removal upon request)