Luxury beachfront villas in Phuket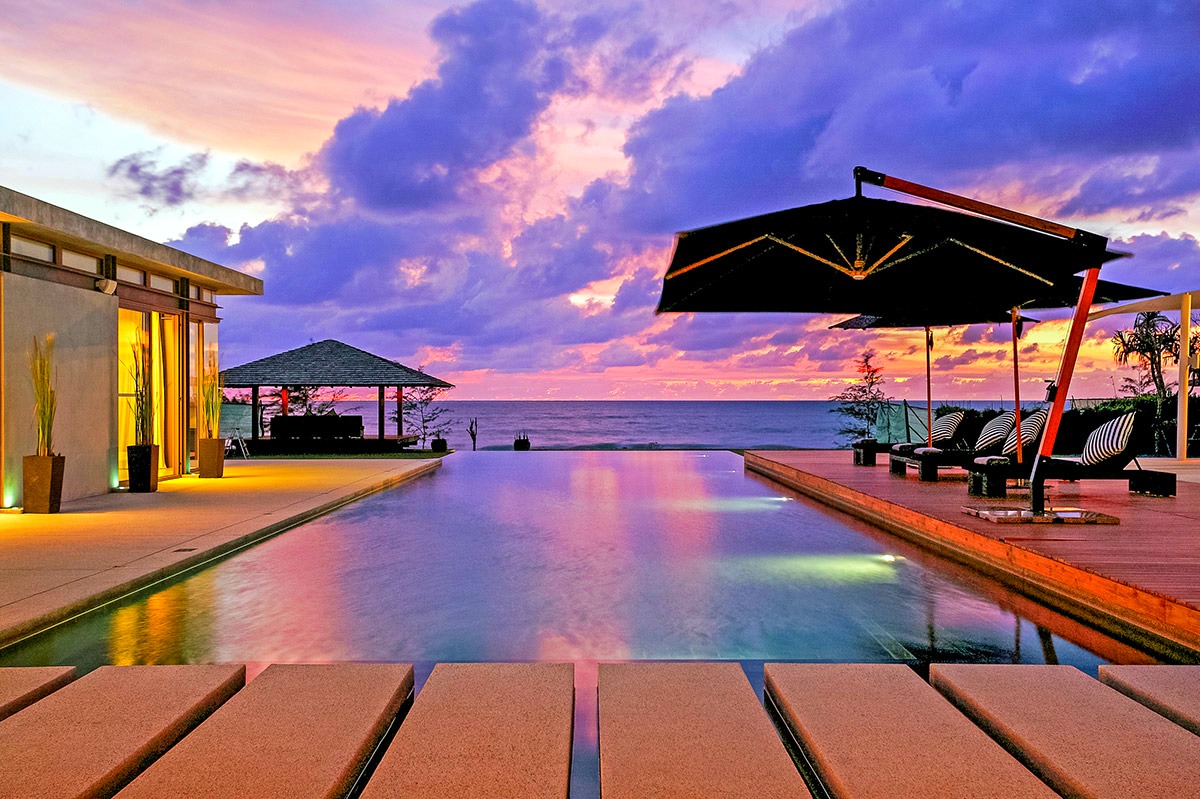 For a full immersion in a luxurious Thai lifestyle, rent a beachfront villa in Phuket and reward yourself with a unique vacation. Enjoy the beauty of nature, of the white sandy beaches and crystal clear waters, and be completely plunged in the local ambience by breathing, seeing and living an authentic Thai experience.
How to do that? Rent a place to stay, go to the supermarket to buy food to cook at home, and generally live like a local as much as you can.
Obviously The Golden Scope has thought about everything, so it prepared a list of the top 5 most beautiful villas for you to rent. Just picture yourself lying on a beach whilst sipping a cocktail and tanning. Sounds like a dream doesn't it?
VILLA CIELO
Treat yourself with this exclusive beachfront villa. Offering 6 bedrooms and 7 bathrooms, and a large infinity pool, Villa Cielo is the perfect solution for a relaxing luxury stay, as it offers a daily maid, 3 staff and a Thai chef that will make you taste the delicacies of the place.
HAI LENG
This 4 bedrooms and 5 bathrooms, villa is a hidden jewel on the island of Phuket. Built right on the beachfront, it offers access to two infinity plunge pools, daily staff taking care of you, and direct access to a white sandy beach. Choose to stay at Hai Leng, and reward yourself with a unique luxury retreat.
VILLA ESSENZA
This villa follows a modern luxury style, with a simple but elegant deco filling the ambiance. Perfect for big families, or a big group of friends, Villa Essenza is composed by 6 bedrooms and 5 bathrooms. Included in the price, you will also have 24 hours staff ready to make you feel as much comfortable and relax as possible.
WW BEACH HOUSE
This elegant villa is characterised by an external modern architecture, which contrasts the traditional internal decorations. Offering an infinity pool that faces right over the ocean, WW Beach House is a relatively small villa with 2 bedrooms and two bathrooms. This particular house is perfect for an exclusive getaway, or for a romantic holiday.
THE BAY VILLA 15
This villa is quite unique as it presents a minimalist chic style, with simple geometric decorations and colourful furniture. Positioned right on the beach, The Bay Villa 15 offers an ocean view pool, direct access to the beach, which is only 20 metres from the house, and a spacious living area. 5 bedrooms and 5 bathrooms are placed all over the villa, and all the rooms have a full view on the seaside.
T H E   V I D E O
All villas are available on Luxury Villa Sand Homes
(All the photos are taken from Google.com, all the videos are taken from YouTube.com, and all belong to their original owners-We do not own any of the content posted-Removal upon request)