Tour in Kakadu National Park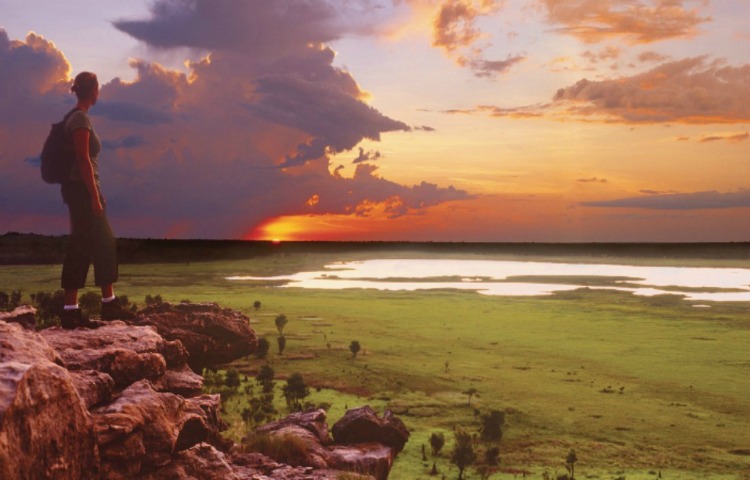 When we think Australia generally in our minds flowing images of endless plains, wildlife, picturesque mountains with beautiful landscapes…
In fact, the Northern Territory has all these characteristics and there we find the Kakadu National Park.
The name Kakadu comes from an Aboriginal language, the Kakadu or Gaagudju, this language was used in the northern part of the area in the early twentieth century; today it is no regularly used though, the descendants of that language group, still live in that area.
In addition to natural beauty, another main feature of this park is the more numerous concentration of rock art sites in the world.
There are also crocodiles and different species of birds like jacana, herons, osprey and more.
About the climate, the Kakadu has two seasons: the wet season, from October to April, during which many interesting places to visit are unattainable; the dry season from May to September ; the latter is ideal for visitors.
The Northern Territory capital is Darwin; it is far over 250 kilometers from Kakadu. In the middle of the park there is the little town of Jabiru, the only town in a national park in Australia.
In summary, the charm of this area, is the set of extraordinary natural beauty with fascinating cultural archaeological/sites as those of Aboriginal rock carvings.
About these sites, "Warradjan Aboriginal Cultural Centre" was created with the aim to raise awareness the culture of the Aborigines of Kakadu in a form understandable to everyone.
Finally, in 1981, Kakadu National Park has been declared a World Heritage Site by UNESCO!
T H E   V I D E O
(All the photos are taken from Google.com, all the videos are taken from YouTube.com, and all belong to their original owners-We do not own any of the content posted-Removal upon request)